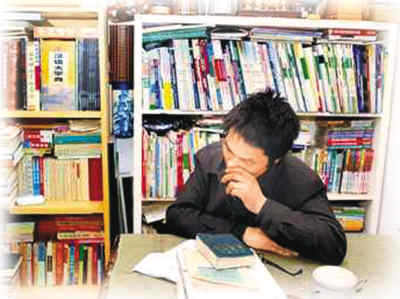 spring sunshine sprinkled on the ground, also sprinkle on the side of the road to park a car cleaning the car. Sweeps the cane reading (a pseudonym) sitting in the car. Book some wear and tear, there are many red pen to write on text annotations. He was watching zhao-guang ge version of the "Chinese history". Zhao-guang ge is literature and history research institute of fudan university, PhD supervisor, and he is an ordinary street cleaner in xian. 44 years old this year, he engaged in cleaning work in xi 'an contain light the way for 12 years.
cleaning cars bag filled with paper
the cleaning room of handlebar hand, put a blue cloth bag, containing notebook, dictionaries and 5 typed pages. This is the paper he has just completed, more than 3000 words, titled "introduction to Chinese character & other like throughout the &; & ndash; the properties and characteristics of the & ndash; and on font and style of", & other; This is my some views of China after long-term research on ancient, very simple, is a hobby! Throughout the &;
teng is LinTongRen, after graduating from high school, working in a machinery factory for three years, due to the factory so bad, he left around playing casual laborer. In 1998, at the age of 30, he took his lover and children to, first in hao village, village stands, later the couple, both as a cleaner, more than 900 yuan a month. No matter how cleaning work during the day, he read every day late into the night. Teng of thought, his paper is one of the many years study ancient crystallization, & other; Since I was young, I like Chinese calligraphy and poetry, I think in the pre-qin history and culture to study the starting point of Chinese traditional culture is the most value, more can reflect the essence of Chinese culture. Throughout the &;
Dr Shan normal evaluation paper full of thinking
in shaanxi normal university, associate professor at the faculty of arts, Dr Wang wei carefully looked at the paper. & other; He mainly discussed is the font style and distinction, cited a lot of literature, there are a lot of their views. Throughout the &; Wang wei said, "this shows that he had some ancient writing and ancient Chinese books to read, still full of thinking, it is valuable in non-professional researchers.
party secretary of shaanxi normal university academy Sun Qing tide after saw the smoke of paper feel very surprised, & other; Ancient Chinese is a very boring subject, every year to enter oneself for an examination the graduate student of undergraduates are few and far between, as a cleaner city beautician, in hard work, to do the research, just as regards the spirit, are very worthy of respect. Throughout the &; Sun Qing chao said: & other; He is in xi 'an I know the most thoughtful cleaner, if he is willing to our academy opened the door to him, our school to welcome him to listen to us and ancient related courses. Throughout the &;