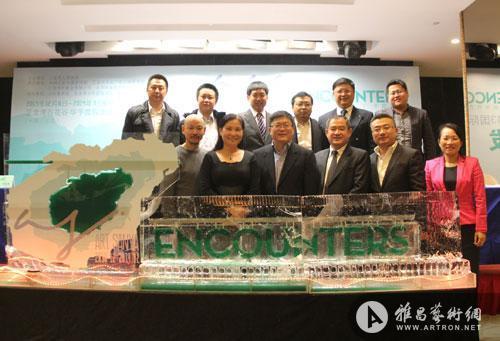 ART&middot was born in 2012; SANYA art fair, make SANYA and hainan town of Chinese contemporary art. In the first, on the basis of the successful hosting of the 2nd & other ART· SANYA art fair & throughout; We inform on December 6, 2013 opened flowers valley, hua yu resort in sanya, sculpture, installations, video, painting and other art forms of nearly three hundred works together mutual reaction, give a feast to 3 months of art, then there will be dozens of famous artists from home and abroad to heavyweight, a series of lectures and interactive for the audience.
the ART· SANYA art fair in the exhibition form and the operation mode has a major upgrade, first introduced sponsored by the people's government of SANYA, SANYA municipal party committee propaganda department as a support unit, by the cultural and sports broadcasting bureau, SANYA, SANYA tourism development board, SANYA tourism co., LTD. And Beijing nine box figure culture co., LTD. Jointly undertake & other; ART SANYA: 2013 international contemporary ART & throughout; Art consists of three parts: to & other; Unexpected & throughout; Under the theme of the exhibition; Give priority to with solo exhibition, on behalf of the Chinese case section of invitational exhibition of contemporary art; And platform of the new exhibition for young artists. Content covering the many new international top contemporary art and contemporary art. At the same time, hua yu group also AD hoc & other; Sanya art fair hoau youth award & throughout; , invite famous curators, critics and artists together to build the authority of the artists to encourage young artists in contemporary art experimental and academic efforts. In addition, the ART· SANYA art fair also launch & other; Hail to the traditional & throughout; Special exhibition, presenting many excellent works of modern painting and calligraphy masters and realize art in time and space and so on multi-level dialogue.
the ART SANYA: 2013 cultural department deputy director-general of the international contemporary ART by present xinjiang, director of professional committee of the national ART gallery, shenzhen contemporary museum of ART and design museum curator emeritus Zhang Zikang served as ART director, Mr Famous curators Mr Huang Benedict and famous curators and tenured professor at the university of Illinois, Mr Xu Gang served as joint curator. To promote contemporary art is combined with the depth of the sanya, with artistic shape cities, promote tourism, with art in art combined with geographical, on the basis of international to build the core chain of Chinese contemporary art.
the theme exhibition & other; Unexpected & throughout; (Encounters) from domestic and international well-known artists; Chinese and international contemporary artists and their works in sanya, collision, dialogue and exchange, to meet for art public understanding, understanding of contemporary art of incision and channels.
invitational exhibition on display case, two art by the famous artist Mr Fang lijun and the work of Mr Shao Yi farming, is a representative of realism in the figure, a contemporary artists draw inspiration from Oriental cultural tradition, the two top artists in art language chose different historical section, so as to realize the space of time span on the dialogue.
ART· SANYA art fair not only provide the top contemporary art and traditional Chinese painting and calligraphy exhibition platform, is also committed to encouraging artists to explore, for Chinese contemporary art language support, ideological innovation. Therefore, ART· SANYA art fair special add & other; Sanya art fair hoau youth award & throughout; , to ensure the fairness of the selection and academic, the intern by famous artists, curators, critics, a veteran in the industry such as 26 people recommend committee, nominated 26 outstanding young artists. Again by the famous curators, critics LiXianTing, Wang Huangsheng, headed, peng feng, five teachers greatly independent, objective and impartial final appeal committee, ten finalists selected young artists. From these ten young artists new exhibition, show the most times Chinese young artists academic exploration. On December 30, also will be held in sanya grand award ceremony, selected by the committee on the final two art award winner, respectively offered 20 and 100000 yuan hua yu group, and awarded & other; Sanya art fair hoau youth award & throughout; For China's young artists to provide the most authoritative academic standard.
special exhibition dedicated to salute to the traditional, exhibited by shanxi hua yu right art museum, China minsheng banking corp., mountain contemporary painting council, Beijing poly international auction co., LTD., chang, qi baishi, xu beihong contemporary master of painting works will appear special exhibitions. As the peak of Chinese painting and contemporary painting in fusion time spirit and made tremendous contributions to the artistic language, tradition and modern, east and west in sanya also shows a meet by chance.
China's contemporary art biennale and fair matures, in terms of academic and market to promote the development of Chinese contemporary art. While & other; ART· SANYA art fair & throughout; Instead, to combine with sanya city ecology, extended, the academic contemporary art exhibition, top young artist of traditional Chinese art exhibition, pioneering the selection, the combination of academic language of art and city orientation, the combination of mass context. Hainan has the special status of the international tourism island, to the organic integration of natural scenery, tourism economy, urban planning, that is rooted in the contemporary art of The Times, more effectively feedback daily city life, as the technicality and the mass of art combining found a successful development model, will make sanya the frontier city of China and Asia art, three-dimensional, comprehensive ART· SANYA art fair will also be the world of art and the public in a comprehensive platform for the arts, promoting SANYA core island chain, construction of Chinese contemporary art in Chinese contemporary art has become increasingly international status today, SANYA will play on a par with the international contemporary art center.