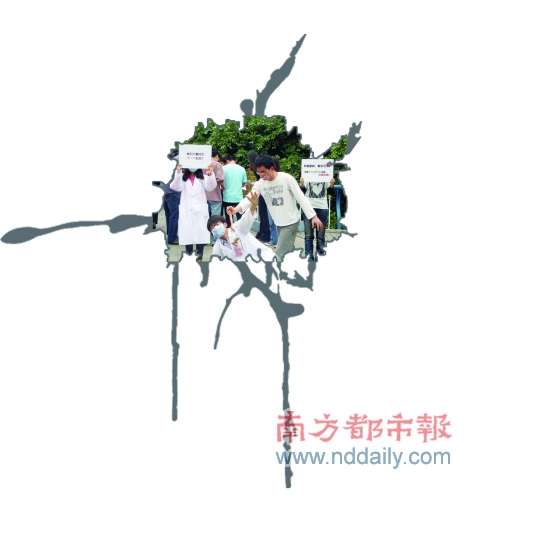 recreate wang hao was killed scene with behavior art, doctor-patient communication sincerely intended to appeal.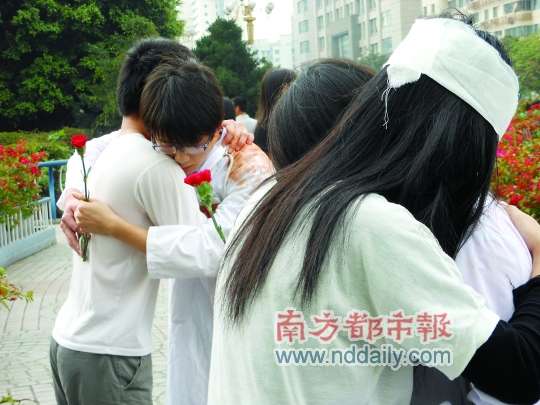 in performance art, send a red carnation to patients with a doctor, patient a hug.
a bayonet to throw himself on the floor of the doctor, blood dripping wet behind & hellip; & hellip; On March 30th, out of the way people thriller scene in the streets of guangzhou, fortunately, it's only medical school students staged a performance art. They are remembering by action of the first affiliated hospital of Harbin medical university intern doctor wang hao, also issued an open letter to the whole society to reflect on medical system structural ills, looking forward to rebuild mutual trust between patient.
in recent years, lots of doctor-patient dispute upgraded violence. On September 15, 2011, Beijing tongren hospital patient flick knife cuts the doctor killings, the social from all walks of life. On the afternoon of March 23, this year, in the first affiliated hospital of Harbin medical university, knife stabbed the doctor in the hospital patients with malignant damage incidents from happening again. A to the hospital for the treatment of ankylosing spondylitis male patients, because of their suffering from tuberculosis at the same time, the treatment of ankylosing spondylitis can affect the lungs, the doctor advised him to cure tuberculosis before treatment of ankylosing spondylitis. After see the doctor because of dissatisfaction with the doctor medical advice, holding a paring knife broke into the doctor's office, one scene three others injured. The victims of wang hao, is the hospital internship "only 28 years old.
on March 30th, the day is the first affiliated hospital of Harbin medical university wang hao & leave other Throughout the first seven &; , seven guangzhou zhongshan university school of medicine students use gentle, cover letter road bridge in guangzhou held a performance art. Distribute the letter at the same time, receiving to social & other Medical students & throughout his letter to the public; , want to use action to remembering wang hao brother, with the way they communicate with people and told that their voice.
performance art is divided into two parts, one is the scene reappearance wang hao was killed; Second, patients to send red carnation to the doctor, patient a hug. & other; Recreate wang hao scene was killed, and not want to provoke the doctor-patient contradiction, and to call for the doctor and the patient sincere communication, not hostile. Throughout the &; Zhongshan university in guangzhou medical college students xiangzi said. At the same time, they also launched at the scene & other; Think of wang hao killing & throughout; The vote, on a total of 68 people, the result is 41 people vote & other; Anger & throughout; , 25 & other; Sorry & throughout; 2, & other; Sympathy & throughout; , with more than 4000 online users choose & other; Happy & throughout; The difference is very big.
& other; Wang hao brother went away, with his medical dream away & hellip; & hellip; We are going into hospital of medical college students, we, will be the next to wang hao? Throughout the &; In an open letter, students expressed concern, but they still believe & other; The vast majority of doctors is caring patients; The vast majority of patients is that doctors in trust. The disease is our common enemy and patients, we need to stand together against the disease. Throughout the &;
according to the letter, due to the imperfection of the medical system, to all sorts of problems, to this, the group of medical students think: & other; Sincere communication between doctor and patient, if lack even the most basic communication, no social respect for the doctor, no doctor to the patient's understanding, the way, how much faith in the society have? Long-term medical system structural ills, hospital medicine for medical helpless, why let's doctor at ease worry-free salving patients? Looking forward to the government can do to increase the investment in medical career. Throughout the &;