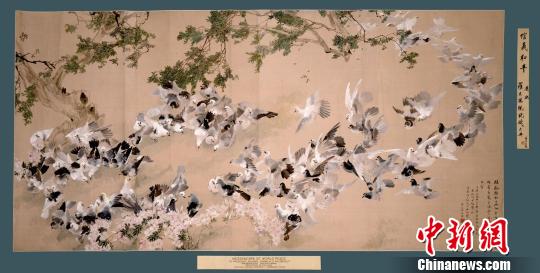 with Chinese art master Zhang Shuqi creation "best pigeons figure". The chongqing municipal CPC for photo taken
by the national government gives a giant painting of the President of the United States the best pigeons figure on April 28 exhibited in chongqing, the creation of the painting with Chinese masters Zhang Shuqi and inheritance of arts will be exhibited together.
deputy director of the CPC chongqing Li Dagang, according to the Chinese flower-bird painting art master Zhang Shuqi was born in 1900, and 1957 died due to illness, zhejiang pujiang, a former professor at the university of central, with central university moved to chongqing during the Anti-Japanese War, and created moral peace in chongqing large flower and-bird painting "the best pigeons figure".
the best pigeons figure painting for 100 only to take off & other; Dove & throughout; , 355.6 cm long, 162.5 cm wide. In the picture the bookmark & other; Faith throughout peace &; Four words. In 1941, the national government will be the best pigeons figure given President Roosevelt, President of congratulations to him a third term. So it became the first Chinese painting are hung in the White House, and have been suspended to Roosevelt's departure.
Li Dagang said he and literature researchers in December 2011 to the U.S. President franklin d. Roosevelt library "best pigeons figure", discuss the loan. After more than half a year time, the best pigeons figure original finally hammered out going back to chongqing exhibition.
the best pigeons figure on April 28 to May 12, in chongqing three gorges museum on public display for free. Zhang Shuqi, meanwhile, in the United States, Taiwan, zhejiang and other places of the painting, as well as its inheritance people Su Baozhen hundreds of paintings will be exhibited together.