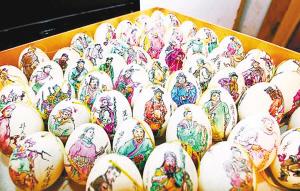 eggshell painted on "water margin" character
leftover eggshell, someone threw a directly, people regard him as treasure. The nanchuan Fu Pin gold 74 – year – old it as a paper and a pen, draw is vivid, lifelike characters in "the water margin" dream of red mansions.
this year Fu Pin gold is the nanchuan district cultural center, a 74 – year – old retired personnel, old man, he had learned the art, after retirement, in recent years for egg painting, the painting on the eggshells. Old man home a two meters long hung on the wall "water margin" hero, "the water margin" 108 will be all in the above.
in 2010, he plans to put these figure painting on the eggshells, draw a complete "the water margin". & other; Every day to eat a duck egg, and then draw a character on the shell. Throughout the &; Old man, the 108 will be spent nearly a year's time, every time a community or a local park with exhibitions, he would hold his baby to show. The old man's daughter, father never sell egg painting, only to enjoy the pleasure of painting.