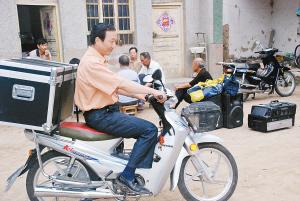 Wang Qiankun riding motorbikes carrying projection equipment out to a movie.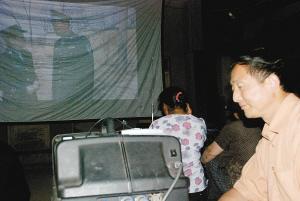 looked at villagers were attracted by the movie plot, Wang Qiankun will very gratified.
shangnan clear oil river township, located in the qinling mountains, there is a famous movie team, team, actually Wang Qiankun alone. Since the 1970 s, Wang Qiankun thirty-six years film screenings for village people a total of 11232 games.
sunny days in rainy day in mud from head to foot
Wang Qiankun, an ordinary rural projectionist, under the condition of the low salary, heavy task, he regrets, constancy, film screenings for village people welcome by mountains of the masses, has repeatedly been rated as advanced individual rural film work.
more than 30 years ago, shangnan traffic generally lag behind. Wang Qiankun said, every time go out, then he must be carrying more than 100 catties a projection equipment and film tape box, on the rugged mountain road, hungry eat own dry food, thirsty to drink by the side of the road springs, is often sunny in mud from head to foot in rainy day. In his own words, ordinary and important work, is full of suffering and joy.
& other; Many people watch the movie, everyone is cheerful, like the feast. Throughout the &; Wang Qiankun is such a night, also the moment of relief, he will forget, forget hunger fatigue. After the movie, but also the mountain road to walk alone in the night to return home for a long time. Although the work was hard, but the payment has been very little. Wang Qiankun said, 35 yuan a month salary he took 10 years, then slowly up to hundred yuan a month. In 2009, after changing digital movie, up to 120 yuan a session. & other; At the beginning of the family quite opposed to, say projectionist development space is too small, the monthly wages can't feed yourself, advised me to find a better job, but I think the job particularly meaningful, see villagers followed the plot applause, cry, laugh, I feel very satisfied. Throughout the &;
two sons relay show movies
it was reported that since 1976 work in the rural film screenings, Wang Qiankun scour the area 26 administrative villages, total more than 30000 kilometers. Nowadays, old wang never prop fell back, but on a motorbike, walking with a brand new digital broadcast equipment within the wide cement road for mountain sent to cultural feast.
36 years, Wang Qiankun repeating the same thing, but he was not tired. Told reporters that his son Wang Bo, Wang Feng before two years have passed the exam, the movie show certificate issued by the rural digital cinema. & other; A successor, I will not worry. From film screenings, of course, I get happy, also let everybody happy, I am very delighted, as a result, I will insist on. Throughout the &;
article/figure reporter Zhang Gongzhong correspondent Sun Chuanqing
good files
name: Wang Qiankun
age: 53,
career: projectionist
deeds: 36 years hold dashan show movies