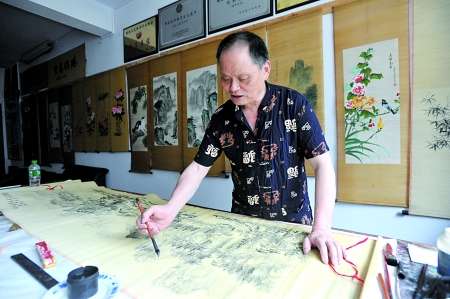 PicIntro
state-level non-material cultural heritage inheritance people MouBingHeng are painted on bamboo shade reporter Zhang Luqiao taken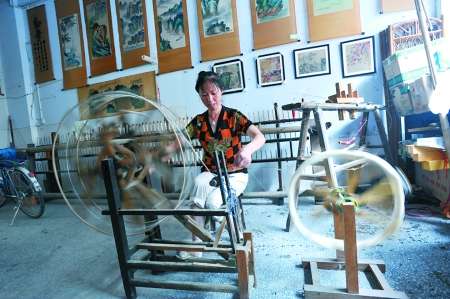 MouBingHeng bamboo curtain factory, workers are silk. Reporter Zhang Luqiao taken
business newspaper reporter Wang Songna
liangping bamboo curtain originated in the song dynasty, has been 1000 years of history. It was based on the bamboo filament as the main raw material, woven shade, and beautifully painted pictures of folk arts and crafts. Nowadays, due to the impact of modern science and technology products, bamboo curtain also gradually fade out people field of vision. To teach this ancient skill, state-level non-material cultural heritage inheritance, a 73 – year – old man MouBingHeng's two sons, respectively with my father to give up their professional production of bamboo curtain.
bamboo can also be woven & other; Cloth & throughout;
MouBingHeng, is liangping bamboo curtain only one state-level non-material cultural heritage inheritance. Went to the house of the MouBingHeng with bamboo fragrance pubi. More than 100 square meters of the house into a studio and walls hung with bamboo curtain picture, in addition to a bedroom, the room is filled with bamboo curtain materials and tools.
although is 73 years old, MouBingHeng making up the bamboo shade to still energetic. A piece of adult arm thick bamboo tube, see MouBingHeng first with a machete to spill plane to section, and then cut it into strips about one centimeter wide bamboo cane, reoccupy MieDao delimit bamboo piece, a piece of a cigarette into a silk. A piece to spill, could take out 23000 root bamboo filament.
& other; This is only the primary stage. Throughout the &; MouBingHeng introduction, bamboo shade technology has more than 30 working procedure, after smoke into silk, and longitudinal, woven curtain, painting and other processes, is very complex. After the reporter sees, bamboo silk be sent to the hands of workers and workers with a traditional wooden loom woven bamboo shade with silk.
Su Baozhen had bamboo curtain painting
picked up a piece of woven bamboo shade, distance, couldn't see the scene behind the bamboo curtain. & other; Can only look from inside to outside, so the bamboo curtain is miss before making its shade is the best material. Throughout the &; MouBingHeng said with a smile, miss the old sedan chair have shade, with bamboo curtain keep out, people outside can't see the young lady in the car, but miss the car outside.
& other; Another lasting appeal than painted on rice paper in the bamboo curtain. Throughout the &; MouBingHeng said, on the bamboo curtain painting is different from the painted on rice paper, it has no paper that natural shading effect, but can give a person the feeling of a kind pure and fresh and free and easy, especially the landscape paintings, comely, painting style has a lasting appeal. In addition, the bamboo curtain can also carry on embroidery, is also very beautiful.
MouBingHeng introduction, bamboo curtains with its unique form, attracts many national well-known artists, shenpeng, Huang Zhou, Yan Songfu, Su Baozhen, on their own, such as everyone had visited and readily painting on bamboo shade, these works have a jewel of great price. Su Baozhen had told MouBingHeng & other; I found myself on the bamboo curtain picture was better. Throughout the &;