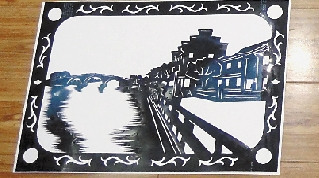 @ set seed with lotus: look out? This is with old X-ray cut out. In peace street, an old man called Zheng Rongshan, can also be used x-rays cut out ten views?
reporter verify 】 【
in harmony huafeng street community, on the second floor has a LaoZheng studio. In the middle of the rectangular table, swinging his X-ray work, cut with opera masks, there are large historical portraits, and the scenery of hangzhou. Along the surrounding walls, Windows, and also hang up a circle of paper-cutting, all from the hand of LaoZheng. In addition to a dream of red mansions portraits, everything else is cut out in x-rays.
LaoZheng, is an 70 – year – old long-years X-ray paper-cut to 4 years ago. Four years ago, LaoZheng had a bad illness. Live every day in the hospital, very boring. Inadvertently found himself a doctor took x-rays is useless, throw away also, alas, is simply to paper-cut. LaoZheng said, in the ward cut X-ray, kill the time, I didn't feel so depressed. After discharge, he collected around abandoned X-ray, already cut up.
unlike ordinary paper-cut, X-ray itself has light and shade depth, as long as raised light area, let in light, x-rays taken on bone grain is clearly visible, cut in good character or landscape, special have stereo feeling.
4 years down, LaoZheng cut more than 300 x-rays. His the craft has attracted many children in the community, the children looking at novel, with his hand. He has been in harmony elementary school opened his own computer. Every Thursday, in the community activity room, LaoZheng will also free teaching.
now, LaoZheng every day at home or studio cut one or two hours. If you also want to learn this craft, you can contact LaoZheng by huafeng community.
our reporter huhu Our correspondent IfengLogo Zheng Qinlan