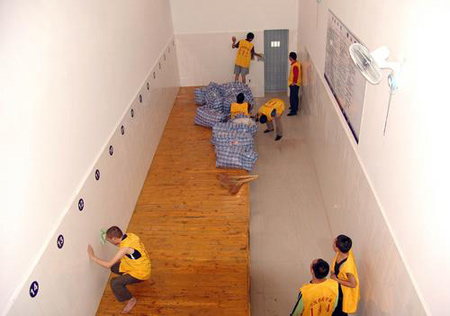 detention center data diagram
good jail are alike, each have each bad jail is not good. Put a lot of other researchers, some jail meeting procedures cumbersome repeat, all things for the purpose of inefficient; Some strainght detention center, sloppiness, so simple procedures that lawyers are sorry. Some detention center, people off for a period of time, speak out, artful, almost as a lawyer; And some detention center, when people come out to stay DaiSha silly, like back from the alien.
the interesting details for the first time into the detention center, was in 1998 in yunnan yuxi, handle a case of defenders perjury. Party was a local famous law firm, director of the university graduate, has worked in the police, prosecutors and judges, then resigned to be a lawyer, then went on to become the defendant, the court on a circle the place he had sat.
one of the most bizarre experience, is almost a decade ago in yunnan. Several young tibetans killed a thief, I took my papers went to a couple of front of the person is the fire, and they said I was a lawyer, want to meet with my client. First fire up a person, to help holding formalities, and then to the fire together one of them cried: that is my client.
dumbfounded, I was the parties to a leak in the hut all around, that even if the interview room. Ask him a few questions, he can't answer, stood up in the yard with Tibetan shouted a voice. For a while to come over to a person, the parties call I asked him. The man was his brother, in the case of principal, was executed later.
a few years ago, to xinjiang to do a fraud, a detention center in urumqi to eight steel (editor's note: & other; Throughout xinjiang bayi iron and steel group co., LTD. &; The way of abbreviation), there is a grand palace gate. Think it's because of less people very enthusiastic reception, stroke at a register, seriously do procedure alone spent a quarter of an hour, which is used in at least ten minutes to fill out our documents. I couldn't help exclamation, work here, is a great place to practice hard-pen calligraphy.
Jiang Xiwan detention center, behind the county town of a hillside. Like other development relatively lag in jail, where similar random: late in the afternoon to work, no matter who you are, from where, ask to see who, what made, how long have closed, you said will be sentenced to how many years, and so on, in the 7788 s, their family. Then slowly give you do procedure, have to wait for a long time, was put forward.
one year to zhejiang zhoushan dinghai jail, a common fraud, must have two lawyers to meet with. After some negotiations, the detention house, where are you going next door to law firms hire a lawyer. The results I only spent one hundred dollars have done this for head big questions. In wenzhou yueqing jail last year, and such a situation, but the rent has increased to 300 pieces.
the following about several detention center in Shanghai.
is the only a downtown Shanghai jing 'an jail prime detention center, surrounded by several star-rated hotels and high-grade office building. Trapped in the feeling, of course, is less than the busy, because all the Windows were like the doors and Windows of the bathroom, can only look down, can't look up. Basically, they most exiguous not stay in this site, but such as inferior courts is a knife.
putuo district detention center, a few years ago by the city moved to the suburbs. Place is expanded, but is not very scientific. Into by a security guard at the door, and, in turn, through three band band as the iron gate before people. Strange is that human will in turn out after the three door, again through the width is two hundred meters at the yard and into the interview room. Simple case, might not go to the interview room can be remanded.
NvJian pudong jail on the top floor. Want to come is because NvJian, guards also gentler. Although it's new, but a total of only two rooms, respectively to questioning and meeting. This means that the law must be the first to arrive, otherwise must be after a long wait. Etc. It's your turn, only to find that the space is little, two people meet can hardly turn around.
a lot of jail with a variety of signs, printing, have framed, with lace, there is also a simple black and white. Content to persuade people to the good, teaches people to repentance, older law, supplemented with the effect of intimidation. The most interesting is the baoshan detention center, circular channels, remand the case full of all kinds of aphoristic. But these words, detainees by almost no chance to see, like a specially written for the inspection and correction.