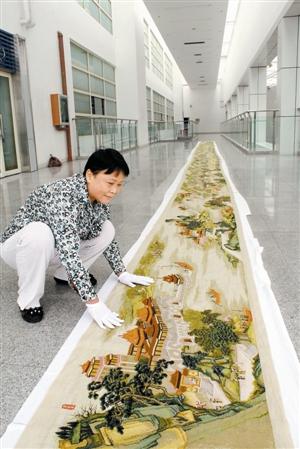 He Jianhua in six years to glimmer of embroiders the painting "on the qingming festival.
814 characters, 180 trees, 83 livestock & hellip; & hellip; Lives in sha tau kok He Jianhua spent six years alone giant cross-stitch finished painting "on the qingming festival. Cross-stitch 22 meters long, thick layers of ground was covered with about 8 million stitches, embroider line more than 200000 meters. For such a painting by contriving, He Jianhua WeiPing natural renai ance, and the husband had a entrepreneurs to buy at a high price, are they refused. But these two days, the muckraking sichuan couple was planning to sell the cross-stitch, but all the proceeds donated to ya 'an earthquake disaster area, home to express their gratitude and caring.
6 years embroidered broke down more than 100 needle
in 2005, from sichuan nanjiang He Jianhua transport for health retirement after, came to shenzhen with her husband working in this life. To pass the leisure time, I have good at needle He Jianhua began to embroider little hang a picture, a wave of neighborhood friends of praise. & other; At that time, everybody says I embroidered well, encouraged me to simply embroider big, I move the heart, also decided to embroiders the qingming festival on the painting "panorama. Throughout the &; He Jianhua said.
experience many, He Jianhua had a difficult time in dongmen bought the whole picture of cross-stitch. Shop at the time the boss doubt, & other; Such a long scroll, hundreds of characters, lines and the color is so complex that you can finish it? Throughout the &; But He Jianhua not away. She spent 6800 yuan to purchase a complete set of cross-stitch tools, start on April 7, 2007, received a formal line until the middle of march.
this picture scroll to cross-stitch weighing 20 jins weight great momentums, vividly the later northern song dynasty painter's masterpiece. Cross-stitch He Jianhua tells a reporter, the whole picture, there are figures, 29, 814, 83 animals, ships, house building 13 more than 30 buildings, chariots, 8 180 17 roof, bridge and trees. She used a total of 42 color embroider line, embroidered down almost 8 million needles, six years of light with broken more than 100 sewing needle. & other; Cross-stitch is too long, embroidered frame brace up, I have a flat out on the ground in the sitting room a needle embroidery, embroidered eight or nine hours every day. Throughout the &; He Jianhua said.
hopes to raise at least 600000 nt dollars
on Saturday, ya news of the earthquake, He Jianhua couple was very worried. Their son daughter-in-law both work in chengdu, fortunately, enron have no matter. He Jianhua, 54, said that his son a peace, she was delighted, but also because of the serious disaster pained. After consult with husband WeiPing, she decided to take the treasure of the qingming festival on the painting "cross-stitch for sale, and put all the money raised to donate, support disaster relief and reconstruction.
WeiPing tells a reporter, they are very support the He Jianhua decision. & other; Our house is not powerful and expensive, but also calculate well-off family, is not short of money. To their own ability to help people in need, we are very happy. Throughout the &; He said, after completion of painting "on the qingming festival of needlework He Jianhua is embroidered" fuchun mountains ", which has a span of 15 meters, probably it will take two years. After the completion of the works, He Jianhua hope can through sale, rebuilding a hope primary school of my hometown. On the way of doing charity, He Jianhua couple has only just begun.
WeiPing admitted that he and his wife, hope that through this charity sale "to raise at least $600000, now has a caring companies are negotiating with him. Such a long painting cross-stitch actually worth? Search for information reporter learned that, in 2011, the 7th Beijing international expo of an auction, 22 meters long by 6 workers do cross-stitch handicraft painting "on the qingming festival, clinch a deal with the price of 1.2 million yuan.
interview WeiPing entrust our help look for buyers, has the compassion and unveiled its own phone: 13316515820, hope interested parties contact him directly. This newspaper will continue to focus on the special sale. (reporter Li jie, the trainee journalist Zhang Junyu article/photo)